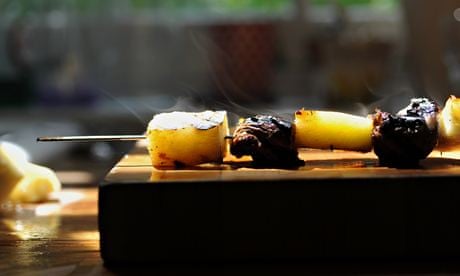 http://www.theguardian.com/lifeandstyle/2014/may/24/skewer-kebab-kofta-jerk-recipe-swap-felicity-cloake
It seems like summer is finally here and without a doubt the barbecues are out in abundance. When I walk down my street , flip flops slapping against the hot pavement, my senses are bombarded with delicious aromas wafting over garden fences. There's also the odd smell of lighter fluid and charred sausage, but I'm not complaining.
Jerk seasoning is one of my favourite flavours to barbecue with, it really makes a fresh, spicy addition to whatever is being cooked – fish, chicken, veggies, all benefit from this flavoursome seasoning. There are spice mixes in the shop that are okay, but nothing beats the freshness and flavour of a homemade marinade, and if there's some left over, just stick it in the freezer to use another day. The added benefit of making your own marinade is that you can adjust the flavours to your taste, I like mine hot but I know that not everyone has my asbestos taste buds.
Jerk Turkey and Pineapple Skewers
Serves 4
500g turkey/chicken thigh, cut into chunks
(chicken thigh makes a good substitute)
½ a small pineapple, trimmed and cut into chunks
For the marinade
6 spring onions, chopped
2 Scotch Bonnet peppers, deseeded and finely chopped
100ml soy sauce
125ml red wine vinegar
1 tbsp vegetable oil
1 tbsp honey
2 tbsp fresh thyme leaves
2 tsp ground allspice
½ tsp cinnamon
2 garlic cloves, crushed
 Mix together all the marinade ingredients, then add the meat. Cover and marinate overnight.
 Thread the meat on to skewers, along with the pineapple, and barbecue, grill or bake until cooked through.
Any excess marinade can be boiled down separately to make a thick, jerk, dipping sauce.
Jerked Coconut Pork Goujons
Desiccated coconut makes a wonderful, flavourful, crispy coating, and of course it has that tropical thing going on that allows it to go so well with other Caribbean flavours.
In this recipe I've used the coconut to coat pork strips, that have first been marinated in jerk spices. Of course you could substitute Turkey, Chicken, Fish or Shrimp with equally good results, and even Sweet Potato wedges for a veggie version.
Serves 4 – 6
500g Pork Loin steaks cut into goujons
4 tbsp. Jerk marinade
1 cup breadcrumbs
1 cup desiccated coconut
1 beaten egg
Oil
First marinate the meat in the jerk seasoning for at least one hour or overnight.
Mix the breadcrumbs and the coconut together in a large bowl. I haven't specified what type of crumbs to use as I tend to use leftover stale bread from my freezer. You can make the crumbs extra crispy by drying them out in a warm oven for a few minutes or you could simply buy Panko breadcrumbs
Dip the jerk coated meat in beaten egg, then in the coconut/crumb mix.
The goujons can be shallow fried over a medium heat, turning once, for about 5 minutes each side; baked in a hot oven, 190, on oiled parchment for about 15 minutes; or cooked on a griddle over the barbecue.